In harmony with its amazing Lutyen's settings rises The Ashok. An inspirationally conceived architectural marvel designed to capture the essence of surrounding natural wonders amidst the hustle and bustle of the capital city. The pillar-less Convention hall has been for many decades the largest in the city and a host to many milestone banquets. The Ashok has hosted several prestigious national and international conventions, events and the highest level of dignitaries, including Heads of States and luminaries from across the world. Truly world class cuisine is served at various restaurants. The Ashok is a Classic example of authentic Indian hospitality with world-class infrastructure.
THE PLEASURE OF LUXURY
ROOMS & SUITES
With a total inventory of 550 rooms, The Ashok has 389 well appointed premium rooms with latest in in-room comforts like choice of bed size (King, Queen & Twin), complimentary wireless internet, LED television, electronic in-room safe and a host of welcome amenities. In addition, there are 150 luxuriously appointed 'Suites', 10 one bedroom apartment style 'Deluxe Suites', and 01 Grand Presidential Suite - 'The Ashok Suite', each depicting the grand and vibrant ethos of India. Dedicated rooms & suites for non-smokers and the differently abled.
Regular Room
These spacious rooms facing the protected greens of Delhi or idyllic views of the Diplomatic Enclave greet you with a sense of calm and clutter free space. The rooms are well appointed with all the modern amenities needed for discerning travellers. Measuring 264 sq ft, have a choice of bed size(King, Queen and Twin).
WHY CHOOSE THE ASHOK
THE ASHOK ADVANTAGES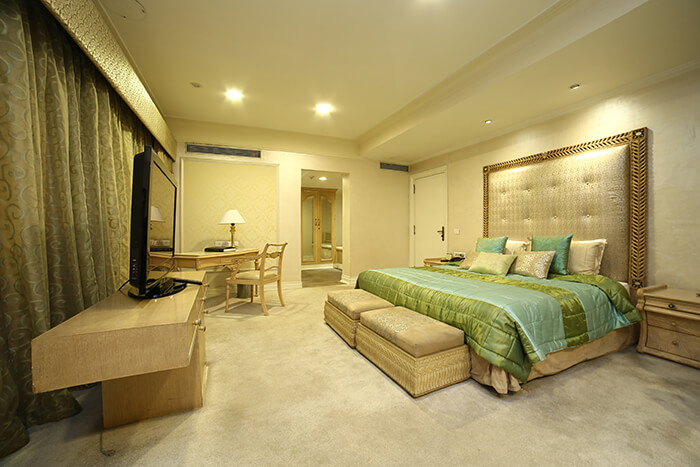 5 STAR LUXURY
Executive and Luxury Suites: Experience the opulence of lavish spaces in our Executive and Luxury suites  starting from around 550 sq feet.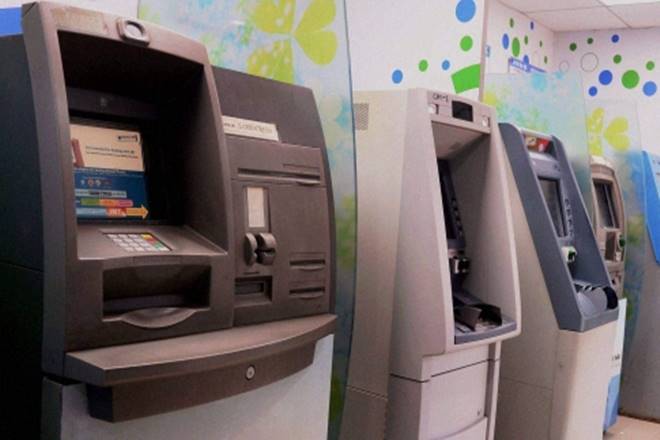 BANK WITH ATM
Business centre with meeting rooms, Bank with ATM and currency exchange.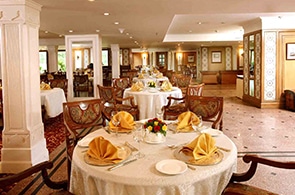 MULTI CUISINE RESTAURANT
Responding to its growing International clientele, The Ashok has a splendid cavalcade of multi-cuisine offerings on board.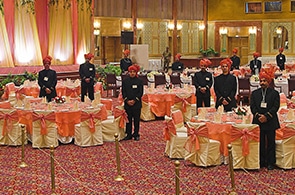 BANQUETS
Select from the full range of conference and banquet facilities at The Ashok.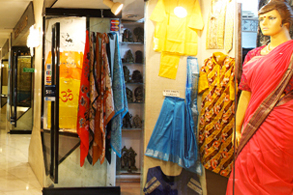 SHOPPING ARCADE
The Ashok offers a wide and exciting selection for shopping. Enjoy the comfort of shopping within the hotel.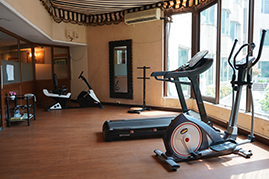 FITNESS
Poolside gymnasium with a lifestyle SPA.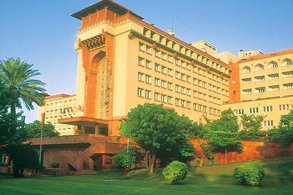 LOCATION
One of the main reasons why The Ashok is popular with tourists and business travelers is its prime location in the heart of the National Capital region of Delhi.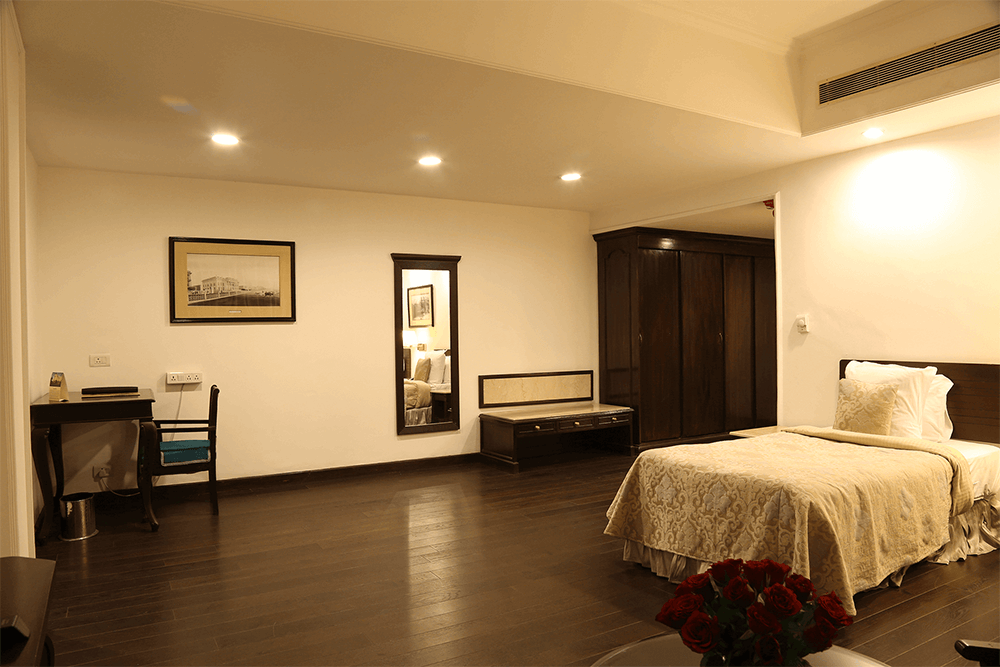 Differently Abled
Customized user friendly infrastructural facilities for the differently abled.
OFFERS
OFFERS & PROMOTIONS
What We Provide
HOTEL FACILITIES
High speed Wi-Fi internet, Bank with ATM, Currency Exchange, Electronic Safes, Executive Lounge with Board Room Facility, Non-Smoking Rooms, Car Rental, 24 hours in-Room Dining, Express Check-In, Check-Out, Travel Desk, Specially Designed Rooms and facilities for Differently Abled, Valet Parking, Airport Transfers on request. Beauty Parlour, Doctor On Call, Florist, Laundry and Dry Cleaning, Shopping Arcade, Major Credit Cards accepted.  
DINING AND ENTERTAINMENT
The truly royal experience

IN ROOM DINING

24 hours room service

North-West Frontier Cuisine

(24 hour Coffee Shop)

SOHO

Night Club

SAGAR RATNA

Restaurants

OPHELLIA

Restaurants
BANQUETS & EVENTS
CONVENTION, EXHIBITIONS & WEDDINGS
Sprawling over 25 acres of land, The Ashok literally houses a minipolis that bustles with international cross currents of meetings, conferences, seminar and weddings.
'Overall I had an excellent experience at The Ashok. The staff were attractive and willing to help to better or offer good service. I appreciated the smile offered by everyone specially those at the entrance. The staff dealing with housekeeping was specially good and friendly as well as laundry staff. Thank you for wonderful experience. I will definitely recommend others.'
Melinda Dominicia

MEA, Syria
'Ladies and gents at The Ashok hotel we are grateful for your generous hospitality and kind treatment for us. During these two weeks, you have showed us a shining image of India and Indian wonderful and lovely people. We wish all the best and all success.'
Nseir Ghassan

Ambassador of Syria
'It was a very good experience to stay in Ashok Hotel New Delhi. I enjoyed the hospitality here at maximum. The staff is very cooperative & helpful. I can say that this is one of the finest hotel in Delhi or wherever I stayed before. Thanks to Ashok for the hospitality.'
Bhupendra Singh

Dhaynchand Awardee
The first time I came to this hotel was in July 1972 my wife was with me. After that, I have stayed here many times. Ashok is still the same "Just Beautiful".
A.H Mahmood Ali

Chairman Parliamentary Committee on foreign Affairs
I feel proud to stay at this old and magnificent hotel ASHOK named after the great emperor. A great disciple of Buddha Ashok is also well known & been of his devotion to Buddhism.I found homely atmosphere and warm hospitality by the management & all the staff everywhere in this hotel. I wish this hotel a great success in days of competition. Let the management & staff be proud to serve in this hotel Ashok.
Madhav.K. Nepal

Former Prime Minister of Nepal
Ashok is truly a global class hotel. The service, luxury accommodation, welcoming and ready reception and atmosphere are unforgettable. Above all, the presidential suite is addictive for the friendly, efficient, and indeed pampering. I look to coming back on any future opportunities.
John Kufour

Former President of Ghana
I wish to express my appreciation for excellent facilities provided by your hotel as well as good hospitality. Hope to stay here next time.
Kyaw Swa

Ministry Of External Affairs Myanmar (MEA)



CLOSEST LANDMARKS
01 km. from Metro Station (Lok Kalyan Marg)
02 km. from Rashtrapati Bhavan
06 km. from Pragati Maidan
09 km. from New Delhi Railway Station
15 km. from International airport
-->